Occasions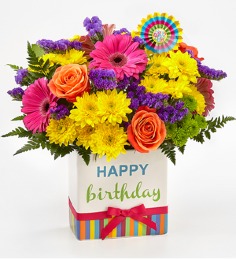 Happy Birthday can be expressed with the gift of flowers from ELIKONIA FLOWERS in San Juan, PR. Whether you're looking for a unique birthday gift or party decor, floral arrangements are always sure to make a statement. Out of town? Don't let that stop you from wishing someone "Happy Birthday". Surprise them with a vase of our best roses, tulips, or daisies, just to name a few, from ELIKONIA FLOWERS. There really is no better way to say, "I love you" or "Just thinking about you". Browse our selection of sample birthday arrangements. Order online or give us a call today.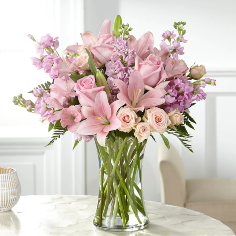 Celebrate the birth of a new baby with fresh flowers!
It's a boy! It's a girl! Welcome the newest family member by sending mom and dad a new baby flower arrangement. Whether it's a baby girl or a baby boy, send your best wishes to the new parents as they welcome their bundle of joy.
Gender Reveal Flowers
Are you or someone you know throwing a gender reveal party? Add fresh flowers to your decorations. Start the party with gender-neutral colored flowers of yellow and white and then switch to bouquets of pink or blue after the big reveal.
Is a party not your thing but still want to make the announcement personal? Send a gender reveal bouquet to your loved ones! We can work to ensure your flowers get where they need to go, whether that's down the street or across the country.
What are popular new baby flowers?
Roses
Carnations
Daisies
Hydrangeas
Daffodils
Sunflowers
Marigolds
Birth month flowers

New Baby Flower Delivery

We offer delivery to most hospitals in our area. Before placing your order for a hospital delivery, reach out and ask about their flower delivery protocol. We want to make sure mom and baby get their special gift.

Or welcome baby home with a beautiful arrangement waiting at their doorstep. A beautiful arrangement will brighten mom and dad's day and be a friendly reminder during those first sleepless nights.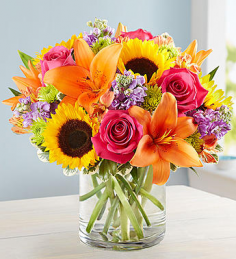 Say "Get Well Soon" With Cheerful Flowers!
Lift their spirits with one of our beautiful get well soon flower arrangements. A fun and vibrant floral arrangement will always brighten their day.
Is someone you know recovering from surgery, feeling under the weather, or battling a long-term illness? Send them a bouquet of joyful flowers in hopes of a speedy recovery.
What are popular, cheerful flowers?
Sunflowers
Daisies
Chrysanthemums
Yellow Roses
Peace Lilies
Daffodils
Orchids

Not only do you need to consider the colors of your flowers but also the aroma and size of the arrangement. Hospital rooms are compact. Consider those factors when placing your order.

What should I say in my get well card?
Hope you get to feeling better soon!
Wishing you a speedy recovery so you can get back to being your amazing self!
I look forward to having your light back in my life. Get well soon!
Work isn't the same without you. Hoping to see your smiling face soon!
Feet better, friend! Sending lots of hugs and healing your way.
I'm glad your surgery went well. Wishing you a speedy recovery!

Can I select a hospital for my get well soon flower delivery?

Yes, of course, you can! We offer a list of area hospitals that we can deliver to! Make sure to check what ward your recipient is in, as some Intensive Care Units do not accept flowers.

Don't see your hospital on our list? No worries! We can work to get your flowers delivered no matter the final destination.